Reduction of Image
Artist: Fan Xi
Opening: 2016.11.26 16:00
Duration: 2016.11.26 - 2017.02.19
Venue: Gallery Yang, Main 2nd Street, 798 Art District,No. 2 Jiuxianqiao Road, Chaoyang District, Beijing, China
Gallery Yang will open Fan Xi's first major solo exhibition, "Reduction of Image", on November 26, 2016. Presented in this exhibition is her focus throughout her body of work on people and things and the transformations of her ways for expressing the relations between image and object—namely, how images are imagined and emerge within human consciousness and mediums. The exhibition will be on view until January 1, 2017.

As people's lives and work are transformed by their use of computers and the internet, the most distinct change occurs in our modes of reading, communication, and expression for which a lot of energies are now invested in replacing the traditional ways of communication through language with images. At the same time, artificial intelligence and its provisions of biophysical and technical environments have been particularly influential among the younger generation, who have become more reluctant to read texts and instead dive into the dissemination and consumption of images. This "time of image-reading" surges forward. We do not merely extract information from images or seek out the multiple realities they represent, but rather confront, judge, and manage huge amounts of images that are invaded by multiple realities. The notion of photography has become a common social behavior carried out with mobile phones and other portable digital devices that allow the user to snap and share the images anytime and anywhere. People are accustomed to snapping pictures and being photographed; this enthusiasm for aesthetics has become their portrayals of true narcissism. For this reason, the ubiquity, abundance, and consumption of photography in this "time of image-reading" together usher the general public into a fervor that terminates the "heroic era" of photographic art, leaving photographers to seek ways of crossing over and surviving the ocean of images.

Fan Xi graduated from the Department of Sculpture, CAFA, in 2009. In 2011, she began turning her practice from sculpture to photography and video. This exhibition shows a selection of her photographic works (over 100 pieces) across 2011 to 2016. There are 4 main sections: Time Length, Tree, Reduction of Image, and All Beings. In this large context, Fan Xi and her photography's possibilities for each other have to do with knowing and perceiving the self. In her words, "Although the light and shadow may have disappeared, the 'I' is still here."
2016.08.07 - 2016.09.01
Opening Reception: 2016-08-07

Artists: aaajiao Xu Wenkai, Ding Shiwei, Dong Dawei, Fan Xi, Gao Ruyun, Kong Lingnan, Li Binyuan, Lin Ke, Lu Yang, Sun Yan, Wen Ling, UFO(Wu Juehui, Rao Guangzhen, Wang Zhi'ang, Yin Zenghuizi,)+Feng Hao, Yan Bing, Zeng Hong, Zhan Chong, Zhang Xinjun, Zhang Yongji, Zheng Jiang
It originated from the infinite chains of cause and effect, and in the alternation of chaos and order it undergoes a double transformation of energy, both physically and spiritually. This "it" denotes the universe as well as ourselves. We live in space and time, and each of us is again a tiny universe. The group exhibition "Inner Universe" comprises 3 segments, which deal with "matter and universe", "life experiences", and "descriptions of the final destination", respectively. This exhibition is a transitory node in our finite explorative journey.
We May Have Met Before - Chinese Contemporary Photography
I. Information of the Exhibition
Topic: We May Have Met Before - Chinese Contemporary Photography
Organizers: FOAM, He Xiangning Art Museum
Co-Organizers: The Pin Projects
Artists Participated in the Exhibition: (Listed in Alphabetical Orders)
Chi Peng, Fan Xi, Feng Yan, RongRong and Inri, Wang Ningde, Zhuang Hui
Opening: November 5, 2015
Exhibition Duration: November 6, 2015 to January 17, 2016
Location: Exhibition halls at the first floor of FOAM
Curation Directors: Marcel Feil, Le Zhengwei
Curators: Feng Boyi, Liu Gang, Wang Dong
II. Curatorial Concepts
1. With the rise of infographics and "we media," the era of heroic photography has ended. Photographers are no longer Prometheus and Don Quixote; they are simply swimming through a flood of images. The diversity and imbalances of social values, as well as the obscurity, heterogeneity, and complexity of the art world, continue to transcend reality outside of experience and imagination. The photographers come to realize that photography is how they face the world and how to they return to themselves. In the end, photography solves the problems of the self. Because the medium concentrates personal secrets, it touches off a chaotic reality. We have many worlds together and we have many problems together, so we can move towards the same destination in a state of mutual ignorance, pursuing answers that might make us happy, or might make us despair. The answers often exceed expectations and the questions asked provide food for thought. For this exhibition of Chinese photographers, we have selected six active photographers of different generations. They depart from tradition, providing a new vision for the Chinese cultural environment that reflects China's current realities and issues.
2. Photography transforms "true" images into something that confronts the viewer. Fragmentary images seem disordered, but the chaos of contemporary society makes life uncomfortable. When hidden emotions move us, certain reactions take place and become a true reflection of the real lives of Chinese people. Reality crosses tangled paths, but photography is more than equal to that task. It looks closely at these open wounds, preserving the floating moments in life and magnifying those oft-ignored absurdities… The photographer's lens captures the smallest details of reality. Photography reorganizes reality, and produces another visible truth. In China, images become witnesses to history, with two layers of meaning: one is confirmation, the other is falsification. When people exclaim at the power of documentary photography, they always say, "Look, how real!" However, this is not the true power of the genre; it is meaningful because opinionated people suddenly discover how far they are from reality. This exhibition combines the rich textural effects of various materials to emphasize the unique features of a region's culture, while also highlighting new views on traditional culture through the use of materials. In these simple images, absence hints at the previous presence of objects. To a certain extent, these pictures might remold Dutch viewers' visual experiences of China, giving them a new imaginative space. People are accustomed to obtaining information directly from photographs, even to the point that they do not think much about the content of the pictures. These photographs allow people to imagine previous paths and shapes. From this perspective, we will always understand, but we will differ in how much we understand.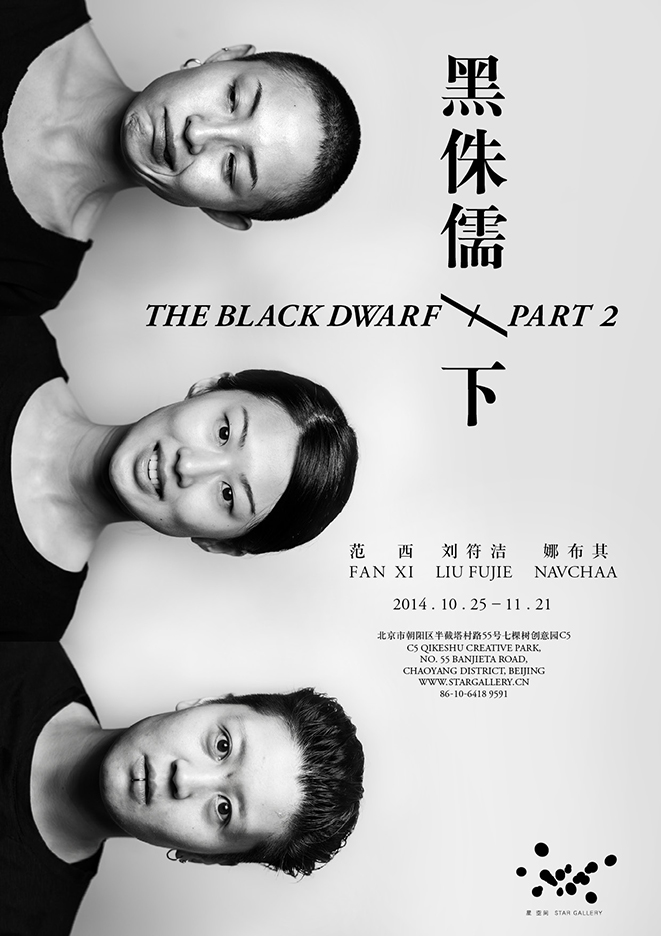 Artist: Fan Xi, Nabuqi, Liu Fujie
Opening: 2014.10.25 15:00

Duration: 2014.10.25 - 2014.11.21
Venue:Star Gallery, C5 Qikeshu Creative Park, No.55 Banjieta Road, Chaoyang District, Beijing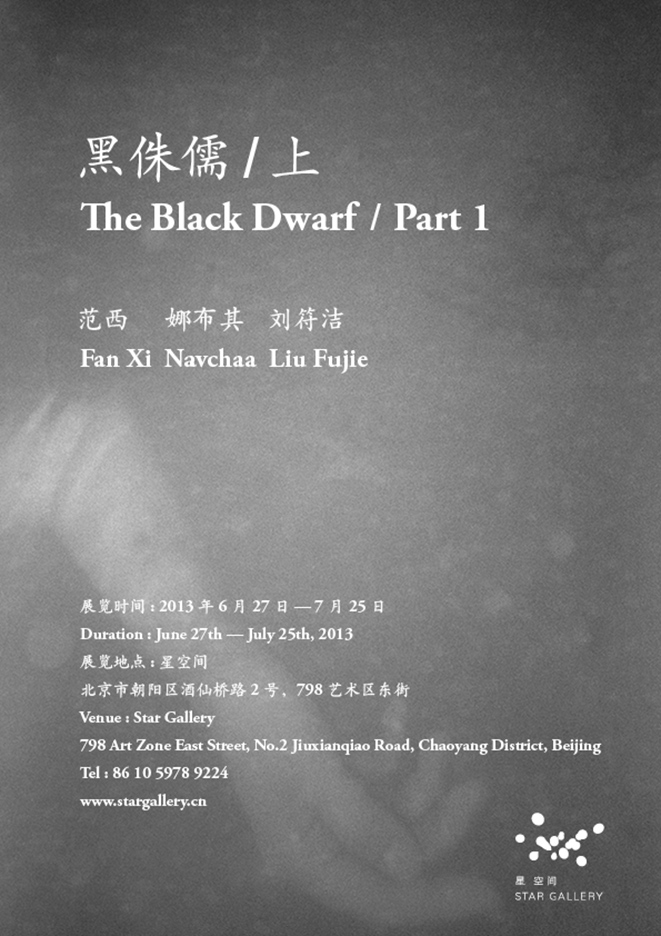 Artist: Fan Xi, Nabuqi, Liu Fujie
Opening: 2013.6.27 15:00

Duration: 2013.6.27 - 2013.7.25
Venue:Star Gallery, East Street, 798 Art District,No. 2 Jiuxianqiao Road, Chaoyang District, Beijing, China